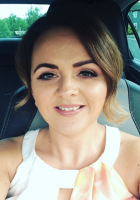 Nicola is a Mobile Hairdresser in Wexford with over 16 years experience who will travel to your home or hotel for weddings, hens, communions and other occasions. Having worked in some of Wexford's top hair salons, she now brings the salon experience along with competitive prices to the comfort of your own home.
Services Offered
Nicola specialises in weddings, hen parties and all hair services.
Mobile Hairdresser Areas…
Throughout Wexford county including Rosslare, Enniscorthy, Gorey and more. Please Note: Travel expenses may apply depending on your location within Wexford.
Special Offers
Please contact Nicola for information on group packages and wedding parties.
Testimonials
AMAZING hair dresser. So professional and helpful. My wedding was new years eve and I had no idea what I wanted or what would suit me. But Nicola did … She made me feel so at ease not only on the morning but through the weeks before when I was sending photos and ideas to her almost every day. I was the most confused bride but Nicola knew what would be perfect and went with it and I loved it Cant recommend Nicola enough and prices are Fantastic too – Michelle